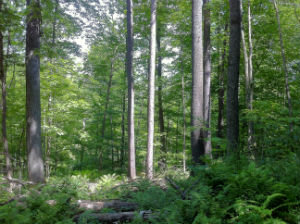 From learning about your woods today to conserving your land for tomorrow, managing your woodlands is a broad and exciting task. There are many ways to glean information about the multitude of services avaialble to assist landowners with technical skills, equipment needs, and professional help. These webpages walk you through resources offered by the State of Vermont Forestry Division. Look to the menu on the right for a list of broad topics.
You or your consulting forester can draft or contribute to existing maps for your woodland plans through the Agency of Natural Resources' mapping tools or Map My Land software.
Interested in Wildlife Habitat on your land?  A Landowner's Guide to Wildlife Habitat Management for Lands in Vermont can be purchased from the Fish and Wildlife Department.