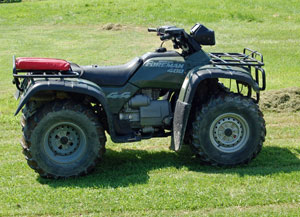 There is a network of ATV trails and clubs in Vermont, mostly on private land. For more information, check out Vermont All -Terrain Vehicle Sportsman's Association's  (VASA) web page
Read Vermont's All -Terrain Vehicle Law here.
ATVs may be used only on state lands on specific road-crossings designated by the Agency of Natural Resources.
The United States Department of Justice implemented new rules for public land management entities on March 15, 2011which specify that people with physical disabilities may ride an Other Power Driven Mobility Device, which could be an ATV/OHV, on public land. See the Department of Justice website as well as the American Trails website for definitions and more information. 
Coming soon! A llnk to a map of assessed trails and an easy to complete user pass form.