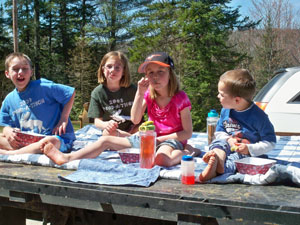 What a great way to spend the afternoon:  pack up the family, grab the cooler and some charcoal and spend a day by the lake fishing and swimming.  When you're ready, fire up the grill and enjoy burgers, dogs or even s'mores.
When it might be hard to get away for a long stretch of time, just a few hours at a quiet retreat can make it feel as if you'd been away on vacation. Our state forests are great options for quiet family moments in a more backcountry setting: bring some trail mix, sandwiches or other tasty trail treats. 
Vermont State Parks has covered picnic pavilions with seating for 30 – 700 people and group-sized grills, or little private picnic bowers with picnic tables, grills or sometimes stone fireplaces, often in a secluded spot by the lake.
Most of our favorite picnicking parks also offer swimming, fishing, boat rentals, horseshoes, playgrounds and sometimes concession stands.
Vermont State Parks: Where to Go
Picnic Pavilions & SheltersParks with picnic bowers
Additional Resources
Day Use Hours and Information (including picnic pavilions and snack bars)Pets in Picnic Areas