Stowe, Elmore - Lamoille County Waterbury, Worcester, Middlesex - Washington County 17,503 acres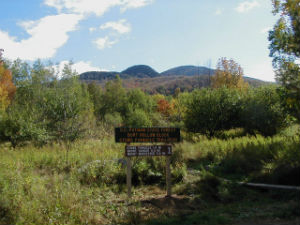 General Description:
The C.C. Putnam State Forest is the fifth largest State Forest in Vermont.  Most of the 17,503-acre forest consists of one contiguous parcel 12,855 acres in size.  C.C. Putnam State Forest is primarily mountainous terrain extending over nine miles along the Worcester Mountains.  The forest spreads into the towns of Elmore and Stowe in Lamoille County, and the towns of Middlesex, Waterbury and Worcester in Washington County.  Elevations range from 500 to 3,642 feet above sea level creating a diversity of cover types including northern hardwoods, white birch, spruce fir, white and red pine plantations, and a variety of sub-alpine conditions on five major peaks.  These peaks are the so-called third range of the Green Mountains.
Unique Features:
A total of 4,014 acres of C.C. Putnam State Forest are a designated Natural Area.  Of this area, 3,391 acres are above 2,500 feet in elevation; the remaining 82 acres surround Moss Glenn Falls in the town of Stowe.  Natural areas law and designation can be found in Vermont State Statutes, Title 10 V.S.A., Chapter 83, S2607.
Recreation Overview:
There are 5 trailheads that access the many miles of hiking trails within C.C. Putnam State Forest.  On the west side of the forest, the Waterbury Trail in Waterbury leads to the summit of Mount Hunger,  the two trailheads for the Pinnacle Trail in Stowe will take you to the summit of the Stowe Pinnacle.  On the east side, the Worcester Trail in Worcester takes you up to the summit of Mount Worcester, and the trailhead in Middlesex will take you to the summit of White Rocks and Mount Hunger.  The summits of Mount Hunger, Stowe Pinnacle, and Mount Worcester are connected by the Skyline Trail, making this a very popular spot for hiking, snowshoeing, and backcountry skiing.   Although Mount Hunger is not the highest of the five peaks, it is by far the most popular.  Its bald summit affords spectacular views to the east, south and west.  Almost every peak in the Green Mountain Range is visible including Whiteface, Camel's Hump, Killington and Mt. Mansfield on its northern end.  Beyond this range one may catch a glimpse of Lake Champlain and the Adirondacks.  Many peaks of the White Mountains are visible on the horizon to the east. 
Additional Information:
Because of its size and rugged terrain, C.C. Putnam State Forest retains its sense of remoteness even though the forest is only one half to one hour away from major metropolitan areas.  The forest is home to many species of wildlife including bear, deer, grouse, beaver, mink, coyote, fisher, and many other game and non-game species.  An ever-increasing population of moose finds the habitat within this forest very suitable to their needs as well.
Stowe Pinnacle Mountain Guide by U32 Seventh Grade Students (2019)
Worcester Mountain Guide by U32 Seventh Grade Students (2018) 
Hunger Mountain Guide by U32 Seventh Grade Students (2017)
Interim Stewardship Plan (ISP) - Brownsville Forest Property (2019)
Any questions about this parcel? Please contact: Brad Greenough, Barre District Stewardship Forester