Springfield, Weathersfield, Windsor & West Windsor; Windsor County
Five Parcels
4,378 acres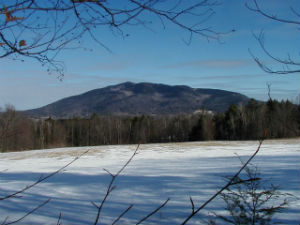 This Management Unit is comprised of the following units:
The Long Range Management Plan for the Ascutney Management Unit (AMU) was completed in 2016.
General Description:
The 4,378-acre Ascutney Management Unit is comprised of five parcels and includes Mt. Ascutney State Park (SP) (3,132 acres), Little Ascutney Wildlife Management Area (WMA) (860 acres), Skitchewaug WMA (235 acres), Weathersfield WMA (80 acres), and Wilgus State Park (89 acres). The five parcels are located in the Southern Vermont Piedmont in the Connecticut River Valley in southeast Windsor County and feature a variety of terrain ranging from the Connecticut River Floodplain to the high peak of Mount Ascutney.
Unique Features:
Thirty-three natural community types (and two variants) were identified and mapped on the AMU, 12 of which are state significant examples of rare or uncommon types. The types represent a broad range including wetlands, Dry Oak Forests, Northern Hardwood Forest, Hemlock Forest, Montane forest types, white pine types, and several outcrop and talus communities.
Important habitats on the AMU include wild apple orchards, cliff and talus areas, deer wintering areas, mast stands (oak and hickory), and river shore. Several are regionally significant including the mast stands at Mt. Ascutney SP and Little Ascutney WMA, and the deer wintering areas on Mount Ascutney.
Forest land that is accessible and operable has a history of managed harvesting, and the high quality and large size of the timber as well as excellent white pine and hardwood regeneration in these areas reflects this.
Wilgus SP has approximately 3,630' of frontage on the Connecticut River.
The most significant historic sites on the MU are the steam donkey used for logging on the upper slopes of Mount Ascutney in the early 1900s and the Norcross Quarry on the north face of Ascutney off the Brownsville Trail as well as the infrastructure completed by the CCC at Mt. Ascutney SP and along the mountain road.
Recreation Overview:
Mt. Ascutney SP is one of the most popular outdoor recreation sites in southern Vermont. Important features include a campground, four hiking trails to the summit, an observation platform, a paved road to a parking area just below the summit, and two official hang gliding launch sites. Wilgus SP, a few miles south, includes a campground and trails and hosts one of the few public access points to the Connecticut River in the region. The three WMAs are popular hunting sites, particularly Little Ascutney WMA which has the best access and has seen the most intensive habitat management. Both Skitchewaug WMA and Little Ascutney WMA host snowmobile trails, with the trail at Little Ascutney WMA seeing the most use. Winter recreation includes snowshoeing, skiing, and ice climbing on Mount Ascutney.