Windsor; Windsor County 3,131 Acres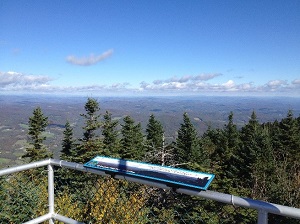 For more information about this unit please visit the web page:
General Description:
The lands of Mt. Ascutney State Park encompass most of Mount Ascutney and the mountain's flanks and are the most visually apparent natural feature in its region. Forest are of hardwood, hemlock, and spruce cover the mountain and are strongly contrasted and visually appealing. The campground adjacent to Route 44 is the access point for overnight camping, use of the Mountain Road, and day use accessible from this point. Numerous access points are found at trail heads and along town and state roads.
Unique Features:
Mt. Ascutney State Park's land use history is unique having seen active quarrying and hosting a fire tower/lookout from the early 1900s to 1952. It is reported to have hosted the Nation's first public recreation trail built in 1825.The Norcross Quarry and Cascade Falls are two favorite sites on the mountain, as are the four hiking trails to the summit and Mountain Road.
Recreation Overview:
Mt. Ascutney State Park contains some of southeastern Vermont's most popular and heaviest used hiking trails. Four major trails totaling approximately 12 miles in length start at the base of the mountain and climb to the summit. All four trails are located entirely on State-owned land or easements. The three trails located outside of the campground area have their own trailhead parking lots maintained by the Department of Forests, Parks & Recreation. A network of summit trails provides access to the mountaintop for visitors who drive or ride up the paved Mountain Road. A 25' tall observation tower located near the summit provides hikers with views of Vermont and New Hampshire.
Hang gliding and paragliding occur on two authorized sites within Mt. Ascutney State Park, Brownsville Rock, and South Peak.
Currently there are no official VAST (Vermont Association of Snow Travelers) snowmobile trails located within Mt. Ascutney State Park although trails have been active here in the past.
Phase 1 of the Vermont Mountain Bike Association (VMBA) mountain bike trail was completed in 2014. It is 3 miles in length and designed for all skill levels.
Ice climbing occurs at several locations within the park. Snowshoeing is a popular activity on the hiking trails during the winter with the most activity occurring on the Weathersfield Trail. All three of the main trailhead parking lots are plowed during the winter.
Hunting is a popular activity on portions of the park. Most of the activity centers around the fall deer seasons and the spring and fall turkey seasons.
The 3.8 mile long Mountain Road usually hosts several recreational events every year, with the Mountain Road being closed to the general public during those events. Organized bike climbs and foot races have also been held on the road.
Planning Overview:
The Long Range Management Plan for the Ascutney Management Unit was completed in 2016.