Windsor; Windsor County 826.5 Acres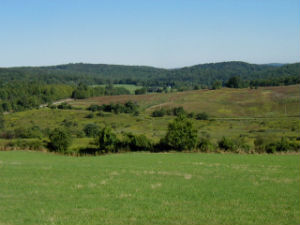 For more information about this unit, please visit the web page:
General Description:
The 826.5-acre Windsor Grasslands Wildlife Management Area (WMA) is located in Windsor, Vermont.
Windsor Grasslands WMA features a mix of forests, agricultural and wildlife meadows. There is a wide variety of wildlife habitat types and conditions on the WMA and public uses on the property are diverse. The terrain is variable, ranging from flat to slight grade in agricultural areas to excessively steep and rocky in forested uplands.
Unique Features:
There are many unique features on the WMA. Some of these include the abundance of open "fields" or agricultural lands, the extent and number of wild apple trees and old apple orchards, and the views of the surrounding "picturesque Vermont" landscape. In addition to these tangible features, there are several less obvious such as great wildlife species diversity and a rich cultural history.
Recreation Overview:
The WMA is very popular and receives much attention by the local town residents and neighbors but also from visitors, in some cases from very far away. In addition to hunting in the fall and spring, the property is utilized year-round by hikers and walkers. In the winter, VAST grooms several official snowmobile trails which are also frequented by cross-country skiers. The WMA is renowned for birdwatching with over 100 species observed in the varied habitats.
Planning Overview:
Planning Status:  Inventories and resource assessments completed. Public involvement and Draft plan TBD.
Additional Information: 
The parcel was transferred to the Vermont Fish & Wildlife Department in March of 2017. In the interim period before Long Range Management Plan completion, managers will continue ongoing work to maintain open lands, control non-native invasive plants, and maintain productivity in hundreds of wild apple trees.