Poultney; Rutland County 128 Acres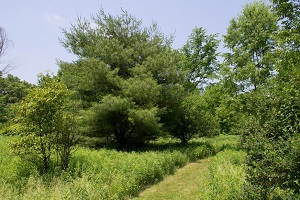 For more information about this property please visit the web page:
General Description:
Lake St. Catherine State Park is a popular camping and swimming location in the Town of Poultney in southwestern Vermont. This 128 acre state park has 3,000 feet of frontage on Lake St. Catherine.
Unique Features:
In 2013, 500 American chestnut seeds were planted in a field adjacent to the hiking trail in partnership with the American Chestnut Foundation. The planting is part of the Foundation's breeding program to produce blight-resistant and locally adapted American chestnuts. The chestnut tree was once one of the most important trees in eastern forests. The chestnut blight, an Asiatic fungus that arrived in the US in 1904 has devastated the chestnut population.
Recreation Overview:
Trails at Lake St. Catherine State Park offer opportunities for park visitors to experience some of the forest and field habitat that surround the developed campground and day use areas. The Loop Trail leads hikers through the forest and to an overlook above the American chestnut plantation. The lower trail begins at the day use area, crosses the stream and leads hikers through the meadow filled with apple trees, wildflowers and birds. This section of trail is accessible. The nearby D&H Rail Trail is a great multi-trail.
Planning Overview:
The long-range management plan for Lake St. Catherine State Park was developed in 1984.