Andover, Ludlow, Mount Holly & Weston; Windsor & Rutland Counties 7,637 Acres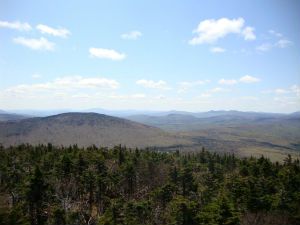 General Description:
Okemo State Forest is one of southeast Vermont's largest state forest parcels. It straddles town and county boundaries. The forest here is primarily mountainous northern hardwood with sugar maple the dominant tree species by a wide margin. Upper elevation boreal forests are abundant and important habitats for many songbird species not typically found in the region. Access is variable and is both by state and town road as well as state forest highways (4WD gravel roads).
Unique Features:
The original block features a large backcountry area with extensive wetlands. The parcel hosts Okemo Mountain Resort as well as a regionally important snowmobile trail.Okemo State Forest is home to the 798-acre Terrible Mountain Natural Area. For more information on this and other natural areas, please see the Vermont Natural Areas Guide. 
Recreation Overview:  
Okemo State Forest provides many varied recreational opportunities. The paved Okemo Mountain Road is one of the most popular attractions on the forest providing motorists, hikers, and bikers access to the mountain summit and hosting special events such as sports car hill climbs. During the winter, this road becomes part of the Okemo Mountain Resort, one of Vermont's major ski areas. Buttermilk Falls provides a picturesque location for a swim in a cold mountain brook. Hiking and snowshoeing are popular activities on the 3-mile long Healdville Trail that accesses the summit of Okemo Mountain and the refurbished fire tower that provides spectacular 360° views. Popular winter activities include snowmobiling on groomed VAST trails and cross-country skiing on a section of the Catamount Trail. Hunting for game species including deer, black bear, and moose occurs on portions of the forest. Portions of the forest are open to primitive camping. 
Planning Overview:
Forest inventory was completed in 2012 in anticipation of Long Range Management Plan (LRMP) development starting in 2015. This LRMP will be the first in the district that incorporates songbird habitat and climate change considerations in the management plan.