Green River Reservoir State Park
Hyde Park and Eden, Lamoille County 5174 acres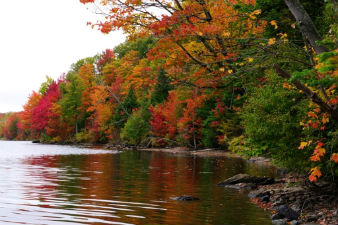 For more information about Green River Reservoir State Park visit:
General Description:
This park surrounds the 653 acre Green River Reservoir, which has for a long time been a favorite destination for canoeists and campers seeking a primitive experience.  All campsites can only be reached by paddling to them - some a 1 to 2-mile paddle from the launch site.
Unique Features:
There are extensive wetlands scattered throughout the property, a number of undeveloped ponds, and the adjoining woodlands are the primary component of the largest deer wintering area in Lamoille County. The Common loon has been nesting successfully for a number of years, and there is a Great Blue Heron rookery located in the northern end of the Reservoir.  These ecological, recreational, and wildlife values as well as the size of the Reservoir and the remote nature of the campsites (which are only accessible from the water) make Green River Reservoir State Park a unique state park within the Vermont State Park system.
Recreation Overview:
The 19 miles of shoreline surrounding the Reservoir are virtually undeveloped, with the exception of approximately 2000 feet (approx. 0.4 mile) of private land abutting the Reservoir near the southern end. Green River Reservoir is one of the largest undeveloped water bodies in Vermont and the largest dedicated to boating with non-combustible motors (electric motors are allowed under state rules). The scenic Reservoir has long been a favorite destination for canoeists and campers seeking a remote experience. In winter, its network of snowmobile and cross-country ski trails attract numerous outdoor enthusiasts.
Planning Overview:
The long-range management plan for Green River Reservoir State Park was developed in 2005.  To look at this plan please click the link below.
Any questions about this parcel?  Please contact: