Elmore, Lamoille County 940 Acres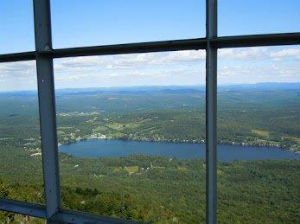 Fore more information about Elmore State Park please visit:
Elmore State ParkElmore State Park Interactive Campground Map and Guide
General Description:
Elmore State Park is part of the Worcester Range Management Unit. Construction on Elmore State Park was started by the Civilian Conservation Corps (CCC) in 1933 and was mostly completed by 1936. The main attraction of the park is Lake Elmore, a 219 acre waterbody which park activities are centered on. Access to the park is gained from VT Route 12, and is located approximately 5 miles southeast of Morrisville. The parcel is almost completely forested except for areas in and around the park itself. 
Unique Features:
Elmore Mountain is a distinct, steep-sided mountain that lies within the park and lies at the northerly end of the Worcester Range. There is a hiking trail that leads to the top of this peak, the Elmore Mountain Fire Tower Trail. Once to the top of this peak one will find a fire tower.  This fire tower is listed on the National Historic Lookout Registry. This tower was constructed in 1939 in a collaborative effort between the Vermont Forestry Division and the CCC. While the tower is no longer used for fire detection, it can still be climbed today.
Recreation Overview:
There are 60 developed sites in Elmore Stare Park, 45 campsites, and 15 lean-tos. Elmore State Park is home to the Elmore Mountain Fire Tower Trail, a popular hiking trail in north-central Vermont. This 1.5 mile trail (one way) travels to the summit of Elmore Mountain, a 2,608 foot peak. Once to the top, one can climb the fire tower which offers spectacular views of the Green Mountains to the west and the Presidential Range to the east in New Hampshire. Another trail accessed off this trail is the Ridge Trail, a 2.2 mile (each way) hike. Both trails link for a nice loop hike of 3.7 miles.  Besides camping, swimming and hiking, other recreational opportunities include fishing, hunting, cross-country skiing and snowshoeing.
Planning Overview:
Elmore State Park is part of the Worcester Range Management Unit (WRMU). The plan for this unit is in progress. Please see the WRMU page for updates about the planning process. 
Any questions about this parcel?  Please contact: Nick Caputo, or call (802) 479-9597.