Killington, Mendon, Plymouth & Shrewsbury; Rutland & Windsor Counties 17,259 Acres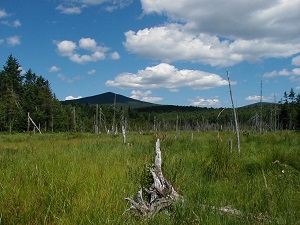 For more information about this unit please visit the web page:
General Description:
The 17,259-acre Coolidge (west) State Forest is located along the Green Mountain ridgeline contributing to a corridor of forested land between the northern and southern units of the Green Mountain National Forest. Public access to Coolidge State Forest is principally along the CCC Road, Town Highway #20 (these roads are not maintained in winter) and Tin Shanty Road in North Shrewsbury, with secondary roads in Shrewsbury, Plymouth and Mendon also providing some access.
Unique Features:
Coolidge (west) State Forest is noted for its forested mountains. Killington Peak is Vermont's second highest at 4,235 feet. Other high peaks including Little Killington, Shrewsbury, Saltash, Mendon and Smith peaks are all over 3,000 feet in elevation. Lands within the management unit contain headwaters for several major streams.  Sargent, Eddy, Brewer's, and Gould brooks are part of the Champlain Basin. Tinker, Great Roaring and Madden brooks are part of the Connecticut River Basin. Coolidge State Forest contains three designated Vermont State Natural Areas – Tinker Brook, Shrewsbury Peak and Mendon Peak Natural Areas serve important roles in the state forest.
Recreation Overview:
Coolidge State Forest is popular for a number of recreational activities. Hiking trails within the state forest include the Shrewsbury Peak Trail, Tinker Brook Trail, Bucklin Trail and portions of the Long Trail and Appalachian Trail. Winter recreation is equally popular with a network of snowmobile and cross-country ski trails. Snowshoeing is popular on or off trail. No roads (including the CCC Road and TH #20) are plowed in winter within the state forest boundary. Hunting, fishing and trapping are also popular on these lands.
Planning Overview:
The long-range management plan for the Coolidge West Management Unit, including Coolidge State Forest, was developed in 2008.