Stowe, Lamoille County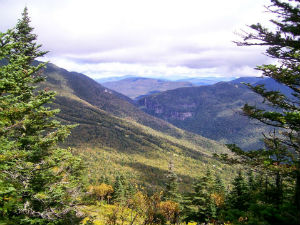 For more information about Smugglers Notch State Park, visit:
Smugglers' Notch State Park Smugglers' Notch State Park Interactive Campground Map 
General Description:
This State Park, situated within Mt. Mansfield State Forest, is based near the foot of Mt. Mansfield, Vermont's highest peak, and provides convenient access to some of Vermont's premier hiking opportunities.
Unique Features:
Smugglers' Notch State Park is in very close proximity to the famous Smugglers' Notch, a narrow pass through the Green Mountains. Lined with 1,000-foot cliffs, the winding road is closed in winter.  The original campground was built by the Civilian Conservation Corps in the 1930's, but was relocated to its current site in 2002.
Recreation Overview:
The park consists of 25 tent sites and 13 lean-tos, and provides easy access to outstanding hiking on the Long Trail, Moss Glen Falls State Natural Area, Bingham Falls, and the Mt. Mansfield Toll Road.
Planning Overview:
The management plan for Smugglers Notch State Park was developed in 2002 and is incorporated as part of the Mt. Mansfield State Forest Long-Range Management Plan.
Any questions about this parcel?  Please contact: