Grafton; Windham County 203 Acres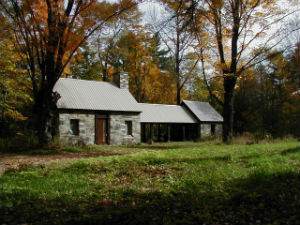 General Description:
Located in a remote area of Grafton, the Mollie Beattie State Forest is a parcel of mixed forests, trails, and roads, tree plantations, and historical sites. Access is via Hinkley Brook Road near the long abandoned settlement known as Howeville. It is a popular area both summer and winter for walking and snowshoeing, and as an access point for hunters to nearby private lands open to hunting.
Unique Features:
The refurbished ranger's quarters originally built by the Civilian Conservation Corps (CCC), and the remains of picnic and tent sites sprinkled through the forest are an interesting feature. The shelter is maintained by the Grafton Outing Club and used in winter as a meeting place for snowmobilers.
Recreation Overview: 
Hunting and snowmobiling are the main recreational activities that occur on Mollie Beattie State Forest. Portions of the forest are open for primitive camping.
Planning Overview:
Part of the Grafton Management Unit, this parcel is due in the next several years for forest inventory and planning work.