Fair Haven; Rutland County 90 Acres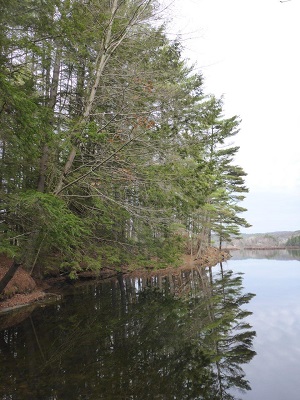 For more information about this unit please visit the web page:
General Description:
Marsh Pond WMA is a 90-acre parcel owned by the State of Vermont and managed by the Vermont Fish and Wildlife Department. Formerly known as Eagle Lake, Old Marsh Pond is located in the town of Fair Haven. Access to the parcel from Pond Road is restricted. The WMA is located at the southern end of Old Marsh Pond.
Unique Features:
The 131-acre Old Marsh Pond is a natural pond artificially controlled by the John Wood Dam at its southeastern end. The WMA is composed of wetlands with both emergent and submergent vegetation as well as upland forests of mixed northern hardwoods. The WMA provides important habitat for waterfowl, amphibians, beavers, minks, muskrats, white-tailed deer, red fox and cottontail rabbits. Old Marsh Pond is a warmwater fishery and supports brown bullhead, yellow perch, pumpkinseed, northern pike, bridle shiner and chain pickerel.
Recreation Overview:
Recreation within the WMA is dominated by dispersed fish and wildlife-based pursuits including hunting, fishing, trapping, wildlife viewing, walking and hiking.