Castleton; Rutland County 100 Acres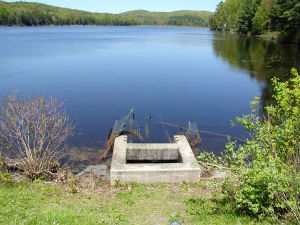 For more information about this unit please visit the web page:
General Description:
The 100-acre Loves Marsh WMA is owned by the State of Vermont and managed by the Vermont Fish and Wildlife Department. The WMA is located in the town of Castleton at the north end of Lake Bomoseen. Access is from the Johnson Spooner Road.
Unique Features:
The WMA is dominated by open water and cattail marsh. The marsh provides highly productive habitat critical to many species of wildlife including beaver, muskrat, otter, mink, long-tailed weasel and water shrew. The marsh also provides excellent waterfowl habitat supporting black, wood and mallard ducks, great blue herons, American bitterns, kingfishers, marsh wrens and eastern kingbirds. A number of reptile and amphibians can be found on the WMA including Jefferson's and spotted salamanders, bull, green and pickerel frogs, spring peepers and garter and northern water snakes. Painted and common musk turtles can also be found here. Loves Marsh is a warmwater fishery that supports largemouth and rock bass, bullhead, northern pike, perch, sunfish and golden shiner.
Recreation Overview:
Recreation within the WMA is dominated by dispersed fish and wildlife pursuits including hunting, fishing, trapping, wildlife viewing, walking and hiking.