Cavendish & Reading; Windsor County 1,530 Acres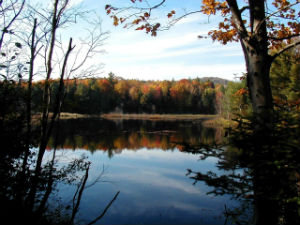 For more information about this unit please visit the web page:
General Description:
Knapp Brook Wildlife Management Area (WMA) is a 1,272-acre parcel of land located in the towns of Reading and Cavendish. It is owned by the State of Vermont and managed by the Vermont Fish & Wildlife Department. Included in this acreage is a 102-acre parcel on which the State owns only the hunting rights and an additional 231 acres on which the previous owners retain the timber rights. Knapp Brook WMA is part of the larger Cavendish Management Unit, which also includes Lord State Forest and Proctor-Piper State Forest. The WMA can be accessed by the parking lots provided at each of the two fishing access areas off Knapp Pond Road or from the Moriglioni Road.
Unique Features:
Knapp Brook WMA contains a unique variety of wildlife habitats including vernal pools, seeps, beaver flowages, a large wetland area and two ponds created by the Vermont Fish & Wildlife Department in the late 1950s. Areas of mixed softwoods – hemlock, white pine and spruce – provide cover for deer in the winter. The presence of oak, hickory, black cherry and beech (mast producing trees) benefits species such as bear, turkey, and deer. Old apple trees have been released to further improve the habitat.
Young softwood stands with small openings scattered throughout are optimal habitat for snowshoe hare.
Recreation Overview:
Recreation includes snowmobiling, hunting, hiking, trapping, and fishing. Knapp Pond #1 has a handicapped accessible fishing facility.
Planning Overview:
The current Cavendish Management Unit Long Range Management Plan (LRMP) is active until approximately 2020, when a new LRMP will be prepared.