Plainfield, Washington County 642  Acres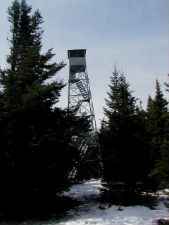 General Description:
L.R. Jones State Forest is Vermont's first State Forest and is part of the Groton Management Unit. 450 acres of the 642 acre parcel was acquired in 1909. It is located entirely in the town of Plainfield. Public access to this parcel is principally from the Spruce Mountain Road, which leads to the trail head for the Spruce Mountain Trail. The parcel is entirely forested with a mixture of hardwoods and softwoods.
Unique Features:
There is a fire tower located on the top of Spruce Mountain which can be accessed via the Spruce Mountain Hiking Trail. This fire tower is listed on the National Historic Lookout Registry. The first tower was erected in 1919 and the steel tower that stands today was moved to Spruce Mountain from Bellevue Hill in St. Albans in 1944. While the tower is no longer used for fire detection, it can still be climbed by the hiking public today. It offers spectacular views of Camel's Hump, the Worcester Range and the Central Vermont area.
Recreation Overview:
LR Jones is home to the Spruce Mountain Trail, a popular hiking trail in Central Vermont.  This 2.2 mile trail (each way) travels to the summit of Spruce Mountain, a 3,037 foot peak. Once to the top, one can climb the fire tower which offers a 360° view of the surrounding area. There are also a series of rock crevices/caves adjacent to the trail which offer both young and old a chance to explore! Other recreational opportunities include snowshoeing, cross- country skiing and hunting.
Planning Overview:
The Long-Range Management Plan for the Groton Management Unit was completed in 2008.
Any questions about this parcel? Please contact: