Canaan and Lemington; Essex County 282.7 Acres Fee Ownership; 129.9 Acres Public Access Easement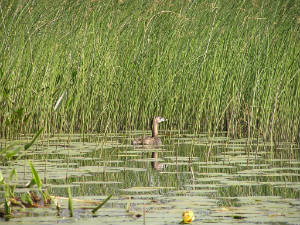 General Description:
The Johnson Farm WMA is located in the Northeast Kingdom along the Connecticut River. The WMA is part of the former Johnson Farm which encompassed a total of 1,023 acres along over six miles of Connecticut River shoreline. The Johnson Farm is notable for its significant habitat diversity, its long and scenic Connecticut River frontage, and abundance of significant natural features. It is also a large, productive and well-known dairy farm which plays an important role in the local economy. The agricultural lands are interspersed with high quality oxbow wetlands, scrub-shrub swamps, emergent marshes, and floodplain forests. 
More Information: Johnson Farm WMA
Planning Overview:
Planning for the Johnson Farm WMA is currently underway. 
Additional Information:
Rule Governing Public Use of Vermont Fish and Wildlife Department Lands
Any questions about this unit? Please contact:
Jane Lazorchak Lands Acquisition Coordinator Vermont Department of Fish and Wildlife 1 National Life Drive, Davis 2 Montpelier, Vermont 05620-3702 (Ph) 802-505-0561 (Cell) 
jane.lazorchak@vermont.gov