Poultney; Rutland County 96 Acres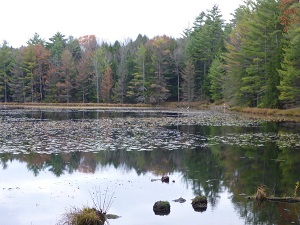 For more information about this unit please visit the web page:
General Description:
Buczek Marsh Wildlife Management Area is a 96-acre parcel of land owned by the State of Vermont and managed by the Vermont Fish and Wildlife Department. Access to the WMA is a right-of-way footpath off Ferncliff Road.
Unique Features:
Buczek Marsh WMA is dominated by a 29-acre open-water marsh created by beavers. The stream that drains the pond eventually empties into the Poultney River. The marsh provides important habitat for waterfowl, amphibians, beavers, minks, and muskrat. The WMA's deer wintering habitat and surrounding upland forest is home to white-tailed deer, gray squirrels and other upland mammals. Waterfowl, including black duck, wood duck, and mallard also use the waters of the WMA.
Recreation Overview:
Recreation within the WMA is dominated by dispersed fish and wildlife-based pursuits including hunting, fishing, trapping, wildlife viewing, walking and hiking.