Salisbury; Addison County 64 Acres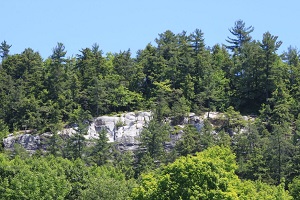 For more information about this unit please visit the web page:
General Description:
Branbury State Park is located on the east shore of Lake Dunmore in the Town of Salisbury. The name of the park is derived from the names of the nearby communities of Brandon and Salisbury. Recreation is the focus of the park with a natural sand beach, campground and hiking trails. It is adjacent to lands of Green Mountain National Forest with many more miles of hiking trails.
Unique Features:
The rock cliffs and natural sand beach on Lake Dunmore are unique features within the park. A number of rare and uncommon plants are associated with the cliffs.
Recreation Overview:
Along with swimming and camping, hiking is a popular activity at Branbury State Park. A network of hiking trails are being reconstructed to access the cliffs and the hiking trails on the adjacent Forest Service land.
Planning Overview:
The long-range management plan for Branbury State Park was developed in 1991.