Berlin, Washington County    
354.6 Acres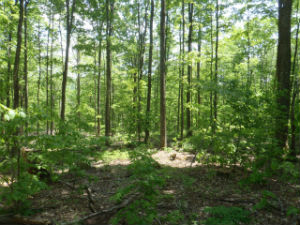 General Description:
Boyer State Forest is located on Crosstown Road in Berlin, Vermont.  It ranges in elevation from 1,000 feet to 1,500 feet. 
The Boyer State Forest was created in 1986 when 213.2 acres of land was willed to the State by the Boyer family.  In 1999 an additional 141.4 acres was conveyed to the Department by the Vermont River Conservancy.
Unique Features:
Because of Boyer State Forest's similarity to many private ownerships, the major emphasis is to demonstrate multiple resource management to private landowners by serving as a site for workshops and tours.  Specific management activities are designed to meet the guidelines of Vermont's Stewardship Incentives Program for Vermont landowners. Boyer State Forest is also home to at least six vernal pools.  Vernal woodland pools are valuable because they constitute a unique and increasingly vulnerable type of wetland that is inhabited by several species of wildlife, some of which depend on pool habitat for one or more stages of their life cycle. Within the Boyer State Forest there are 24.6 acres of open fields which are mowed regularly.  In some of the hardwood areas of Boyer a significant portion of the species mix is butternut.
Recreation Overview:
Boyer State Forest provides a variety of recreational opportunities including hiking, mountain biking, cross-country skiing, snowshoeing, hunting and wildlife viewing. The only designated trail on Boyer State Forest is a connector mountain bike trail from Crosstown Road to a larger trail system on the Berlin Town Forest and Berlin Pond-Paine Mountain area.
Planning Overview:
The long-range management plan for the Boyer State Forest was developed in 1993.
If you have any questions please contact: