Benson, Castleton, Fair Haven & Hubbardton; Rutland County 3,526 Acres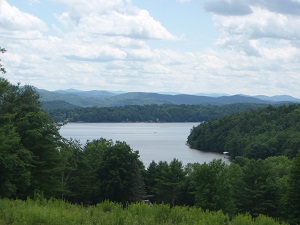 For more information about this unit please visit the web page:
General Description:
Bomoseen State Park is a large state-owned parcel located in the towns of Castleton, Fair Haven, Hubbardton and Benson. The lands are mostly forested with a mix of hardwoods and softwoods. There are two public campgrounds within the larger Bomoseen State Park – Bomoseen State Park (campground) and Half Moon State Park.
Unique Features:
There is waterfront on Lake Bomoseen and Black Pond, while Half Moon Pond, Said Pond and Moscow Pond are wholly within the park, and Glen Lake nearly so. There are rich cultural resources within the park, mostly associated with the 19th century slate industry of subsistence agriculture. The mosaic of upland forests and wetlands creates a diverse habitat for wildlife.
Recreation Overview:
There are public campgrounds on Lake Bomoseen and Half Moon Pond, and a public beach on Lake Bomoseen. Boating and fishing area popular activities on the waters of Bomoseen State Park. There are hiking trails associated with each campground and a trail that joins the two. All lands west of the Scotch Hill and Moscow roads and around Half Moon Pond are open for hunting. The D&H Rail Trail is nearby.
The original Bomoseen State Park parcel (365 acres) was donated to the state by Martha Warren in 1959. The property was deeded as a wildlife sanctuary and is reserved from hunting and trapping.
Planning Overview:
The long-range management plan for Bomoseen State Park was developed in 1997.