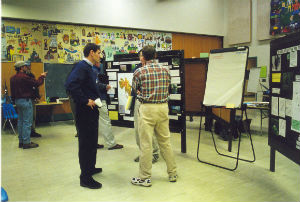 Public input is a very important part of the Long Range Management Planning Process. Please read this document for more information about the Role of the Public in Planning.
April 19, 2018, 6:00 pm to 8:00 pm; Charlotte Central School, Hinesburg Road, Charlotte, Vermont
The Vermont departments of Forests, Parks & Recreation and Fish and Wildlife are hosting a meeting to provide an opportunity for public input on the draft long-range management plan for Mt. Philo State Park. The meeting will be held on Thursday, April 19, 2018 from 6:00 to 8:00 pm at the Charlotte Central School on Hinesburg Road in Charlotte, Vermont.
The format for this meeting will be an open house. At 6:00 pm, participants will have the opportunity to review the draft plan, view maps, discuss goals and strategies with staff from the Departments of Forests, Parks & Recreation and Fish and Wildlife, and provide written comments. At 7:00 pm there will be a brief presentation providing a planning overview, highlighting portions of the plan and outlining next steps. Following the presentation, participants can continue to meet with Agency staff and provide comment.
Visitors are welcome to arrive and depart at any time during the two-hour meeting.
 
Drafted and reassessed periodically with collaboration among agency experts and public input, long-range management plans for ANR lands represent an important framework for providing responsible stewardship of public land. The Mt. Philo plan sets a long-term outline for management, but also takes into account the nature of this unique state park and incorporates some short-term considerations not typically included in other plans. Careful stewardship of Mt. Philo State Park supports a healthy forest that provides for a range of high-quality recreational activities, especially hiking; supports functioning natural communities; and strives for a careful balance and integration of public uses.
Written comments may also be submitted online or through the mail to the following address until close of business on June 1, 2018: ANR.MountPhilo@vermont.gov or Department of Forests, Parks & Recreation, 271 North Main Street, Suite 215, Rutland, VT 05701.
The draft LRMP can be viewed at http://fpr.vermont.gov/state_lands/management_planning/documents/district_pages/district_2/mt_philo
***
March 20, 2018, 6:00 pm to 8:00 pm; Town of Brighton Elementary School, 825 Railroad Street, Island Pond, Vermont 
The Vermont departments of Fish & Wildlife, and Forests, Parks, & Recreation are holding a public meeting to discuss future management and use of a group of conserved lands in Vermont's Northeast Kingdom. 
The meeting will discuss the Bill Sladyk Wildlife Management Area, Black Turn Brook State Forest, and Averill Mountain Wildlife Management Area, primarily in the towns of Norton and Holland.  The meeting will take place on Tuesday, March 20 from 6:00 to 8:00 p.m. at the Town of Brighton Elementary School. 
"These lands occupy a special place in Vermont, with vast areas of both softwood and hardwood forest, numerous ponds and streams, and many opportunities for remote experiences" said Doug Morin, a biologist for the Vermont Fish & Wildlife Department.  "Large areas of interconnected conserved lands with healthy forests and waters such as these are essential in Vermont.  They form the foundation of the state's working landscape, providing areas for outdoor recreation, tourism, and sustainable forestry practices." 
This is a continuation of an effort to create a management plan for these lands that has been ongoing for a number of years. The meeting will provide an opportunity for members of the public to provide thoughts on how the lands are currently used and how they might be used in the future. 
The public may also submit comments directly until April 20, 2018. For more information about the meeting or the planning process, or to submit a comment, please contact Doug Morin at doug.morin@vermont.gov.
****