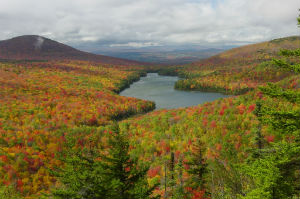 Until about 1970, timber management was the primary use of state lands. In the early 1970s, the snowmobile boom signaled the start of a dramatic increase in the use of state lands for extensive recreation. At about this time, state lands foresters began a program of wildlife habitat improvement in cooperation with biologists in the Vermont Department of Fish and Wildlife (F&W).
The Vermont Department of Forests, Parks and Recreation (FPR) has created the long-range plans for state lands since approximately 1980. This arrangement was formalized in 1983 when the Agency Secretary directed that lands formerly administered separately by the three departments be regarded as Agency lands. District foresters were directed to coordinate management and planning for all Agency lands in their respective districts.
By 1991 the Departments of F&W and FPR reached general agreement on procedures for the consistent administration of each department's lands and development of long-range management plans for these lands.
In 1995 the Departments of Environmental Conservation (DEC) and FPR entered into a memorandum of understanding (MOU) regarding administration of DEC's flood control lands. Under the MOU, FPR assumed responsibility for leases, licenses, and special use permits for DEC lands. FPR subsequently assumed responsibility for boundary definition and control, property disputes, and recreation and forest management on DEC lands.
In 1997 FPR and F&W entered into new MOA delegating land administration and land acquisition activities for F&W lands to FPR. Under the MOA, FPR is responsible for coordination of leases, licenses, and special use permits; maintaining F&W property records; surveying boundaries; and administration of acquisition for F&W lands.
Acknowledgment of the growing complexities of land management led to a number of changes in the ANR's lands planning process in 1999.  A lands stewardship board, consisting of seven division directors, was created to coordinate planning between the three departments. A lands planner and three technicians were hired to assist in the planning and implementation efforts.
ANR district staff work together to develop plans for the lands in their regions. Team members include foresters; wildlife, fisheries, and aquatic biologists; ecologists; and parks managers.  These stewardship teams were set up to encourage landscape scale analysis by multiple discipline and inter-departmental review of management plans.