Vernon; Windham County 1,428 Acres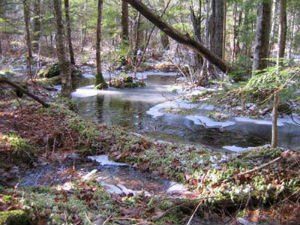 For more information about this unit please visit the web page:
General Description:
Bounded by Interstate 91 on the west and by the Massachusetts border on the south, Roaring Brook Wildlife Management Area (WMA) consists of 1,401 acres in the towns of Guilford and Vernon. The WMA is comprised of 11 separate parcels ranging in size from 10 to 995 acres. The largest parcel borders the Vernon Town Forest (465 acres) thereby creating a 1,460-acre contiguous piece of public land.
Unique Features:
The unique ecology of the WMA is a high point of the parcel. Roaring Brook is situated in the southernmost portion of the Southern Vermont Piedmont biophysical region. Due to its location, many of the natural communities on the property are unique to Vermont and are more like those found in Massachusetts. Plant and tree species such as black gum, mountain laurel, scarlet and white oak, and American chestnut can found on the property. There are several wetlands within the WMA, and Roaring Brook flows through the center of the main parcel. The WMA is mostly forested with a mixture of hemlock and hardwood trees. A significant percentage of the hardwoods are white and red oak which provide an important food source for many wildlife species. Five hundred sixty-five (565) acres of the WMA function as deer wintering area. Jefferson's salamander (Ambystoma jeffersonium) and the Northern Racer Snake are rare species that occur here. Significant natural communities found on Roaring Brook WMA are vernal pools, wetlands, red maple-black gum swamps, and sugar maple–ostrich fern riverine floodplain forests.
Recreation Overview:
Access is limited due to the presence of Interstate 91 and a lack of rights-of-way through the private lands on the remaining borders. The larger parcel can be entered on foot through the Vernon Town Forest off Basin Road. This parcel may also be accessed via a Class 4 road known as AD Brooks Road off West Road though 4WD and high clearance are needed. Recreation includes local hunters and walkers who enter via nearby private lands or the above points and use of snowmobile trails emanating from the Vernon Town Forest.
Planning Overview:
The Long Range Management Plan (LRMP) for the WMA is current and being actively implemented.