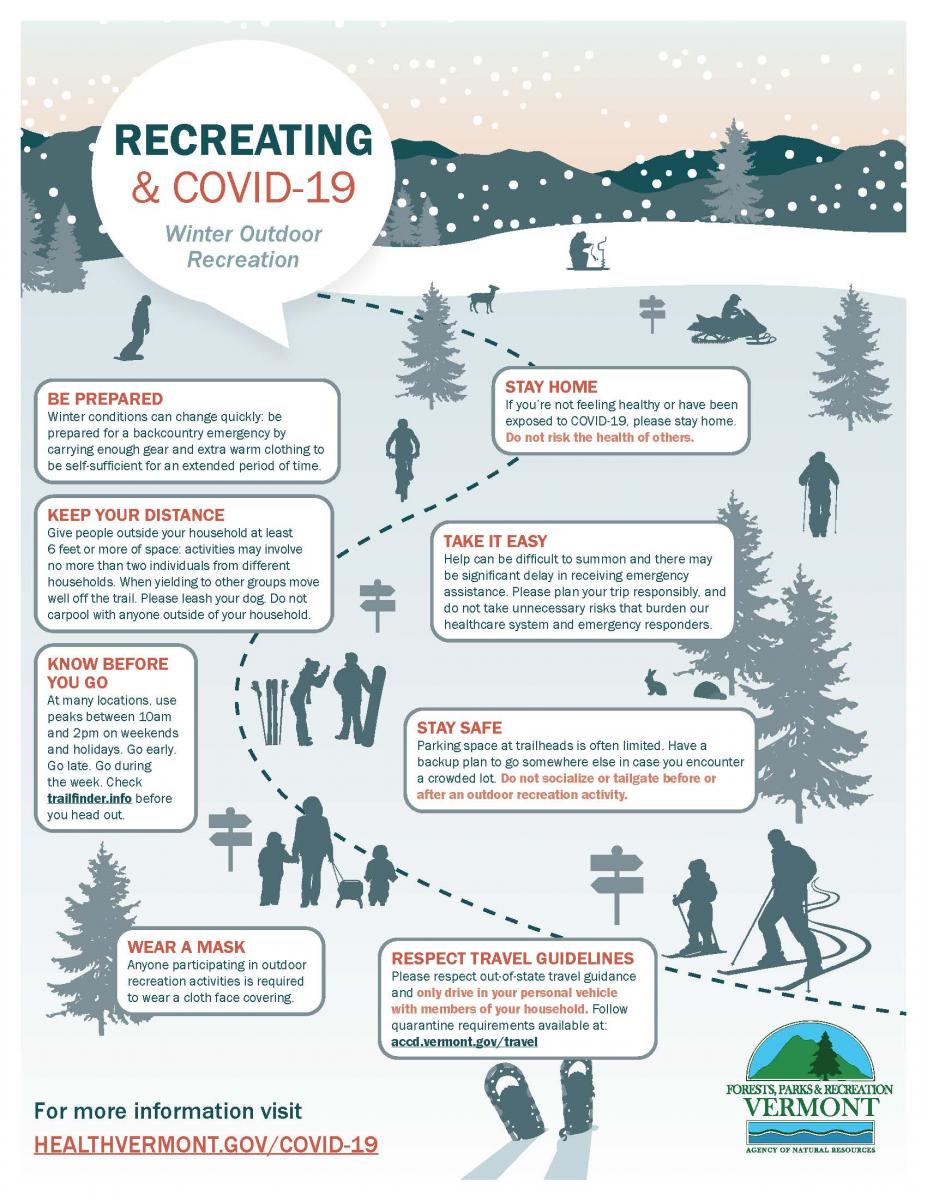 Interested in a copy of this poster? Contact Jessica Savage at jessica.savage@vermont.gov for a .pdf file.
---
Physical and outdoor recreation are important parts of Vermont's economy, and those activities are a crucial component of many Vermonters' physical and mental well-being. At the same time, these activities may increase the potential for increased transmission of COVID-19, so precautions to limit that risk must remain in place even as restrictions are gradually loosened.
Keeping trails, parks, and other public outdoor spaces open for appropriate public use is challenging with limited staffing available given currently required public health and safety guidelines under the Governor's State of Emergency orders and addenda. All state and municipal agencies as well as recreation partners and volunteers are doing their best to balance the requirements of public health and the Governor's order and addendums with Vermonters' need for exercise and stress relief. We want folks to have healthy, close-to-home options and – in part --the public's behavior will determine if that remains possible and prudent.
Vermonters are encouraged to participate in outdoor recreational activities, while being asked to limit themselves to those activities that can be enjoyed while adhering to social distancing and hygiene requirements, and which do not include direct physical contact with those outside their immediate household.
Vermonters should continue to focus on local outdoor recreation opportunities and are encouraged to pursue day trips close to home, but are no longer being asked to limit outings to within 10 miles of their homes.
Travel and Non-Vermont Residents: see https://accd.vermont.gov/covid-19/restart/cross-state-travel
For more information about health and safety precautions, please visit https://www.healthvermont.gov/response/coronavirus-covid-19
The Vermont Department of Forests, Parks, and Recreation will continue to refine general outdoor recreation guidance, and work with ACCD as well as our statewide recreation and conservation partners for sector-specific guidance for activities such as swimming, paddling, mountain biking, and backcountry/primitive camping. Check back often for updates and contact Jessica Savage at jessica.savage@vermont.gov with any questions.
See https://accd.vermont.gov/covid-19/business/stay-home-stay-safe-sector-specific-guidance#outdoor-recreation for sector specific guidance for outdoor recreation organizations and businesses.
Vermonters and visitors who meet the guidelines who are participating in outdoor activities should follow these guidelines:  
Please only drive with members of your household. 
Find out Where to Safely Recreate: Many outdoor recreation facilities are operating, but at a limited capacity. Call ahead or check websites for more information before you head out. You can find information on local spots on http://www.Trailfinder.info, https://vtfishandwildlife.com/ or the landowner or recreation organization's specific website. Be sure to check trail organization websites for detailed information on the use of their trail networks and additional requirements to ensure a safe experience for all users.
Respect Trail Closures: Some trails may be closed. Please consult www.Trailfinder.info prior to starting your hike.
Minimize Risk to Others: Go out only if you're healthy, have not been exposed to someone who has tested positive for COVID-19, and/or have not recently traveled from a location with a CDC-issued travel advisory.
Do Not Engage in Contact Sports: For example, outdoor basketball courts may be open to shoot hoops, but signage should be posted prohibiting contact games. Do not share sports equipment with people outside of your household.
Engage in Low-Risk Activities: Now is not the time to try something extreme and end up in the hospital, taxing our health care system. In addition, Search and Rescue personnel must don all PPE and sanitize all rescue equipment, which is time-consuming and, given their need for close proximity and contact with rescue subjects, it is also dangerous for them.
Practice Good Hygiene: Wash hands often with soap and warm water for 20 seconds. If those aren't available, use a hand sanitizer containing at least 60% alcohol. Avoid surfaces that are touched often, such as doorknobs, handrails, and playground equipment.
Try Not to Touch Anything: The coronavirus can survive on objects for several days, and that applies to commonly touched outdoors surfaces like railings, fences, signs and trash cans. Public restrooms that are still open (many are currently closed), may only be as clean as the last person who used them. Use the bathroom before you go out, and always make a habit of washing your hands when you return home.
Wear a Cloth Mask or Face Covering: Any time you know others may be present, you should have your mask on, even while running or biking. Keeping it at the ready is ok if you can quickly and safely pull it up over your nose and mouth, doing this well before you come within six feet of others. Although disinfecting your hands after touching the mask is advised, wearing a face covering is intended to protect others.
Observe CDC's Recommended Social Distancing of Six Feet from Other People (and then some!) When you're exerting yourself, your breath and associated droplets can travel farther than six feet: stay out of other people's "contrails" and give each other as much space as possible (wearing a cloth mask is a best practice at least when approaching and passing people).
Practice six feet of spacing and know what it looks like. Keep it as you walk, bike, or hike. It may be hard to estimate six feet in your mind, but a few common objects might help. An average bicycle is just a little less than six feet long. Most kayaks are 10 feet long, so if you imagine yourself kayaking around a park, you have about five feet to the front of your boat. Many standard fishing rods are at least six feet long.
Please Leash Your Dog! They are members of your household and need to keep their social distance as well (most standard leashes are 6 feet in length).
Know Proper Trailhead and Trail Use Etiquette:
Know where and when to go: it's best if we don't all go to the most popular trailheads at the most popular times of day. Early morning or evening tends to be less crowded. Dispersal is key! You can plan your trip on www.trailfinder.info. If you arrive at a parking lot and it is full, find another trail.
Slow down, step back, and let people know when you're approaching: Awareness and consideration are key. Everyone should yield to everyone right now and making some noise as you approach is recommended. A friendly "Hello!" followed by a pause to figure out your next move is the best tactic. If you find yourself coming up behind a slower walker, and there's not six feet to pass safely, slow down instead. If somebody is getting too close to you, step back to allow enough space.
Step off the trail when needed: If the trail isn't wide enough to allow for six feet in passing, step off the trail at a 90-degree angle, being careful not to tread on plants if at all possible. Once you're six feet off, wait for the approaching group to clear the area before retracing your footsteps. If you're a mountain biker, lay your bike down by the side of the trail first. By whatever means you may be moving on the trail, don't cut a new trail parallel to the existing track.
Keep single file (even on wide trails): Keep your group single file (this may mean you have to hike more slowly than you want to): do not spread out all over the trail. When you let someone pass, step off to the side and stay put — don't walk or ride alongside the path. The same goes for when you encounter ice or mud in the trail — stay on the trail and go right through it!
Don't stand across the trail to chat: it is great to see friends and acquaintances (who's that behind the awesome plaid cloth mask?) but stopping on either side of the trail to chat just creates a breath "gauntlet" that others must either pass through or go off-trail to avoid.
Embrace an arrive, play, and leave mentality: Do not gather in groups before or after activities.  
Hiking with Children: If you are hiking with children, set expectations before getting out of the car. Remind them not to run up to people or dogs, and to cough and sneeze into their elbows while turned away from people. Children older than 2 years in age can and should be encouraged to use cloth masks or face coverings. Remind your kids often of the new rules; they will need lots of kind and consistent reminders of what this new behavior needs to look like — be sure that you are modeling it!
Remember: If you can't maintain social distance, just don't go at all!
Access State Lands: Currently, state lands (State Parks, Forests, Fish & Wildlife Access Areas, and Wildlife Management Areas) remain open and accessible to the public for outdoor recreation, although most facilities like restrooms are currently closed and not being staffed or sanitized. Some roads and trails are gated this time of year and closed to all but foot traffic.  The Long Trail System on state lands is currently closed.  Visit Green Mountain Club for more information and updates.  Other trail closures may be necessary in the future.  Please check www.Trailfinder.info often for updates.
Explore More Recreation Opportunities: You can keep up to date on fishing and hunting opportunities through the Vermont Fish and Wildlife website or Facebook page, and you can purchase hunting or fishing licenses online. You can also join the Vermont State Parks Venture Vermont Outdoor Challenge, which provides additional ideas for outdoor activities and is a great way for kids to learn about their environment.
Primitive Camping: Shelters, remote campgrounds and privies on state lands are currently closed through June. Primitive (self-contained) camping is allowed, but guidelines must be followed: https://fpr.vermont.gov/primitive-camping
Keep Up-to-Date on Vermont State Parks: Although currently open for general visitation, it is not yet appropriate or safe to open State Parks for staffed operations.  But we are working with VDH information and guidance and striving to be fully operational later this spring or early summer. Some modifications to programs and services may be expected to ensure the safety and health of park visitors and staff. Check the website https://vtstateparks.blogspot.com/2020/03/vermont-state-parks-covid-19-updates.html for regular updates as this is likely to continue to change.
Off-season (now through official opening) camping in Vermont State Parks has been suspended as a result of the Governor's Executive Order that went into effect on March 25, 2020 at 5 pm.
Support Local Businesses and Organizations: If you need equipment or services related to outdoor recreation activities, please consider contacting your local outdoor store. Many Vermont retailers are again able to offer services like curbside pickup, local delivery, or online ordering. If you're able to, please also consider making a donation to the organization that manages your favorite trail or recreation destination.​
For more info on COVID-19 and related guidelines, visit: https://www.healthvermont.gov/response/infectious-disease/2019-novel-coronavirus