Charlotte; Chittenden County
232 Acres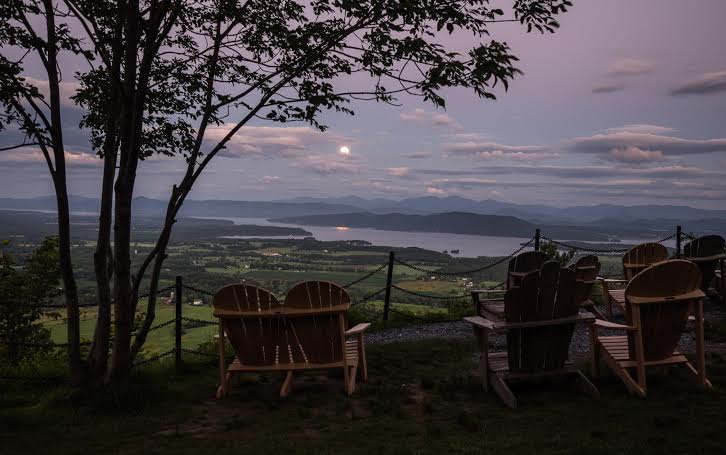 For more information about this unit please visit the web page:
General Description:
Mt. Philo State Park is located in the Champlain Valley town of Charlotte. Although just 968 feet in elevation Mt. Philo is significant with respect to the surrounding landscape. Views from the summit are spectacular and have long been an attraction of park visitors.
Unique Features:
Mt. Philo State Park has a rich history of recreational use with trails and carriage roads to the top and gazebos and vistas along the way. Early owners and neighbors were drawn to the mountain much the same as visitors today. In the 1930s, the Civilian Conservation Corps (CCC) planted trees and built roads, trails, campground, ranger quarters, picnic area and the summit lodge.
Recreation Overview:
The park roads and hiking trails of Mt. Philo draw thousands of visitors per year. Whether using the trail system or park roads people hike to the top for exercise, to experience nature, view wildlife – especially birds, and to see the spectacular view from the summit.
Planning Overview:
The Agency of Natural Resources recently developed a Long-range management plan (LRMP) for the 232-acre Mount Philo State Park located in the Town of Charlotte. Mt. Philo, Vermont's oldest state park is dominated by the 968' Mount Philo with spectacular views of the Lake Champlain valley and the Adirondack Mountains of New York.
Drafted and reassessed periodically with collaboration among agency experts and public input, long-range management plans for ANR lands represent an important framework for providing responsible stewardship of public land. The Mt. Philo draft plan sets a long-term outline for management, but also takes into account the nature of this unique state park and incorporates some short-term considerations not typically included in other plans. Careful stewardship of Mt. Philo State Park supports a healthy forest that provides for a range of high-quality recreational activities, especially hiking; supports functioning natural communities; and strives for a careful balance and integration of public uses.
View the LRMP through the link below: