Rochester; Windsor County 16 Acres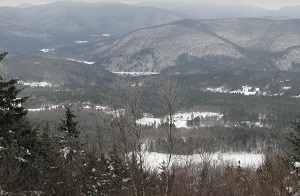 General Description:
Mt. Cushman State Forest, just 16 acres in size, occupies a small section of ridge between Rochester and Randolph in the northeastern corner of the Town of Rochester. The forest consists of two parcels, a 14-acre piece with a 2-acre piece to the south. The forest is remote and access is difficult due to the terrain and limited road access to the ridge. Mt. Cushman State Forest is landlocked and there is no legal public access to the forest.
Unique Features:
Despite its small size, Mt. Cushman State Forest offers big views. From its location on the ridge (the summit of Mt. Cushman is not part of the State Forest) one can see for many miles.
Recreation Overview:
The historical use of Mt. Cushman State Forest has centered on public recreation and fire control. The area was a common recreation destination for the communities of Rochester and Randolph as far back as 1879 and the first fire tower was built in 1920.
Planning Overview:
A draft long-range management plan was developed in 1996.