Bloomfield, Essex County 41 Acres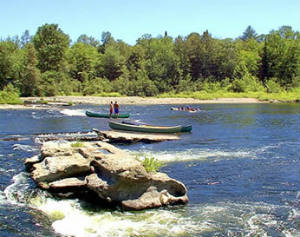 General Description: Lyman Falls State Park is located along the eastern side of VT Route 102 in Bloomfield, approximately two miles north of the intersection of VT Routes 102 and 105. In May 2001, the Vermont River Conservancy (VRC) purchased the property from the Washburn Lumber Company. On the same day, the VRC donated a grant of conservation restrictions, public access easement, and right of entry to the Vermont Housing & Conservation Board. The VRC then immediately conveyed the underlying fee-title to the property, subject to the aforementioned easement, to the Vermont Department of Forests, Parks and Recreation.
Unique Features: Adjacent to the old Lyman Falls dam, now breached, the property provides access to some of the finest trout fishing in New England and hosts several outstanding primitive canoe campsites. Plunge pools, rapids and riffles below Lyman Falls have the effect of oxygenating the water to create an excellent cold-water fishery.
Recreation Overview: Lyman Falls State Park is managed as a primitive canoe-campsite, water-access only, and a foot-access fishing area. Parking is limited and there is a gated access road off of VT Route 102 leading into the lower part of the Park from slightly north of where Mill Brook enters the site. The property is open for all types of non-commercial, non-motorized dispersed outdoor recreational purposes, including, but not limited to, bird watching, camping, canoeing, cross-country skiing, fishing, hunting, snowshoeing, trapping, walking, and wildlife observation.
Planning:
The LRMP plan for Lyman Falls State Park was adopted in May of 2004.  A link to the document is available below.
Additional Information: