Jamaica & Londonderry; Windham County
1,097.30 Acres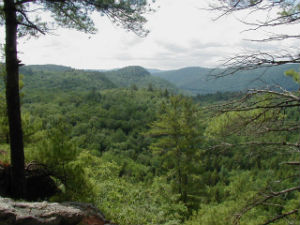 For more information about this unit please visit the web page:
General Description:
The lands associated with Jamaica State Park are heavily forested, steep and rocky. They are typical of the West River Valley with white pine, red oak, and hemlock being the common tree species. Hiking trails are numerous as are peaceful spots to explore along the West River and Cobb Brook. It is one of the region's most popular parks due to the excellent river access, the scenic trails and vistas, and the rail trail suitable for family biking and walking.
Unique Features:
The Railroad Bed Trail emanating from the park is a gentle and picturesque walk and bike. The numerous bald peaks in the area, some with trail access are a popular destination as is Hamilton falls Natural area accessible by foot from the park and by town road from Windham.
Recreation Overview:
Camping, hiking, biking, swimming, snowshoeing, cross-country skiing, and fishing are common and popular activities here.
Planning Overview:
Forest Inventory and ecological analysis are taking place in 2014 to begin the process of formulating a new Long Range Management Plan (LRMP) for this property.