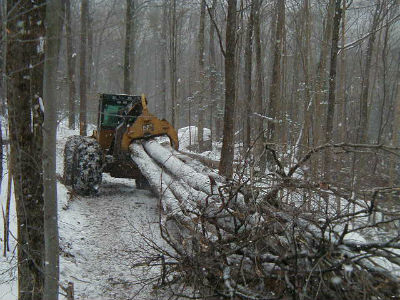 Harvesting in your woods demonstrates support for Vermont's working forest landscape. You may harvest based on your Use Value Appraisal or Tree Farm plans. In some cases, you may not have planned to harvest, but a weather-related event or financial need may require you to harvest a portion of your trees. 
Harvesting operations in which a professional forester is involved result in more value to the landowners over time, and are most likely to result in favorable environmental outcomes. A consulting forester who works for you and is not paid based on wood production can provide balanced oversight of your harvesting project based on what terms are best for you and for your land. Contact your County Forester for a list of consulting foresters in your area who can help you plan and oversee a harvest in your woods. 
In the event of storm, death in your family, boost in market prices for wood products, or just because of logging operations nearby, if you receive unsolicited calls from loggers seeking to cut trees on your property, be sure to take your time in considering the offer: you do not need to make an immediate decision. Carefully listen to the proposal, taking notes, and also get the logger's name; pass this information by your consulting forester or County Forester to see whether the logger's offer is reasonable.
As a result of the logger's proposal, if you are considering a harvest, be sure it follows your forest management plan, particularly if you are enrolled in the Use Value Appraisal program. Your County Forester can advise and direct you to the forms you will need to submit for the harvest to take place, including your Forest Management Activity Report which will be due after your harvest has been completed. You may also need to apply for a Heavy Cut Permit prior to logging.
Be sure you have a copy and fully understand the terms of the timber sale contract with the professional you will hire to harvest your trees. The contract should explain clearly detail the logger's duties and liability insurance coverage requirement to cover you for the duration of the harvest operation. Ensure the contract allows for provisions such as the setting aside of any logs or firewood for your use or your request of the logger to improve any roads or trails. Your harvesting project should follow the guidelines specified in The Acceptable Management Practices (AMPs) for Maintaining Water Quality on Logging Jobs in Vermont as both YOU and your logger are responsible for AMPs. If your property includes shoreland or sensitive habitat, provisions for the treatment and protection of the same should be clearly outlined in your contract with the logger.
Learn More
Review the publication Call Before You Cut produced by the Vermont Woodland Association. Ask for and contact your logger's references to gauge other landowners' experiences, including whether they thought they were promptly paid a fair price for their wood.
Voluntary Harvesting Guidelines for Landowners in Vermont is a helpful resource for landowners considering timber harvest