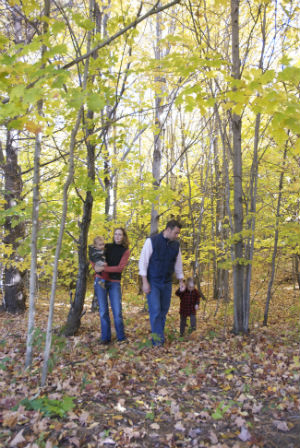 Whether you have just purchased your land or it has been in your family for generations, your woodlands represent the special bond that exists between you and the places you own and enjoy. Planning and caring for your woodlands can be both a benefit and a responsibility for you and your heirs.
As with any heirloom, thoughtful consideration should be given to how your land will be passed on to subsequent generations. Fortunately there are tools that can help you with this process and these tools work best when there is open dialog within your family about the property itself, the family's feelings toward it, and your family's capacity to care for it in the future.
Estate planning is not an easy topic to approach for most families, but it is an invaluable exercise that can minimize future worries. When organized when owners are still in sound health and have positive goals, estate planning can be a joint exploration of your family's future. When planning for an estate that includes a cherished land holding, be sure to talk to estate planning experts who understand all the aspects of land values that you wish to consider, not just the financial benefits.
Some families are concerned about future ownership responsibilities and benefits if land passes from a single family member or a couple to multiple family members. Such transitions need not automatically result in subdivisions to fulfill equitable distribution of benefits. Alternatives such as placing the land m into a family trust or other legal instrument keeps the land intact while allowing for the distribution of income to family members who can also retain other benefits from the property, such as recreational use. There are other options, including easement sales and leases, that can help you consider additional financial options.
In some cases one family member may step forward to make decisions and oversee management activities for the entire family, but in other cases, a family may prefer to contract with a consulting forester or other resource professional to handle the management tasks on a regular basis. Your county forester can help you understand Power of Attorney responsibilities if you are enrolled in Use Value Appraisal program. 
Family members that agree today may not always agree on management strategies in the future. Outlining how decisions will be made and a vision for what the forest will look like down the road could be invaluable gifts for future generations of both the trees and your family descendants, but the involvement of an attorney who understands estate planning is critical.