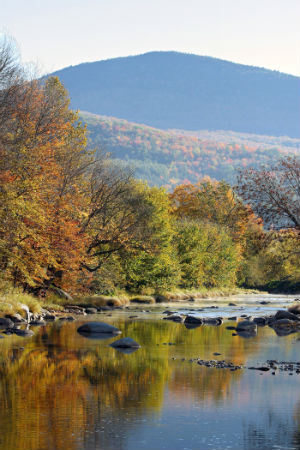 Vermont landowners, forestry professionals, local governments, buinsess and visitors have access to a variety information, tools and resources through partner organizations. Key organizations in Vermont that work cooperatively with the Division of Forests are listed below.
Agency of Agriculture Food & Markets: Administers programs and develops policies and procedures for regulating and managing the state's agricultural land, products and livestock.  
Agency of Commerce and Community Development: An MOA with the Agency helps the Division coordinate economic development and marketing within the forest products sector and the rest of Vermont's manufacturing sectors.
American Society of Landscape Architects – Vermont Chapter: Professional association representing landscape architects. They promote the profession and advance the practice through advocacy, education, communication and fellowship. In the 2010 legislative session, licensure of
landscape architects was enacted in the state.
Associated Industries of Vermont: The Forestry Policy Task Force group of this organization addresses statewide policies affecting the industry and also serves as the state coordinator for the national Sustainable Forestry Initiative (SFI).
Audubon Vermont: Affiliated with National Audubon Society, they are involved in environmental education, research and advocacy. With the assistance of a Forest Service Redesign grant, they have an initiative called 'Foresters for the Birds.' The program provides education and technical assistance to manage forest lands for bird habitats. The program is proving to be an excellent mechanism to bring forest landowners with an interest in birds into being active forest stewards.
Center for Northern Woodlands Education: A nonprofit organization that uses media to encourage a culture of stewardship. A high quality quarterly subscription magazine, 'Northern Woodlands,' includes articles related to programs and technical assistance, website and other publications on forest and wildlife issues.
Connecticut River Joint Commission: Established in Vermont, New Hampshire and Massachusetts in the 1980's. The commission advises the three Governors in developing policies to guide growth and development across the Connecticut River.
Conservation Commissions: Local municipal commissions work to sustain their important natural and cultural resources. Statewide umbrella organization is the Association of Vermont Conservation Commission. They offer educational, networking and financial support to local commissions
Department of Environmental Conservation: Through its programs, the DEC manages water and air quality; regulates solid and hazardous wastes; and administers a number of voluntary pollution and waste reduction programs. 
Department of Fish and Wildlife: Responsible for managing and protecting the state's fish and wildlife resources through protecting habitats, implementing species management plans, educating the public, performing research, enforcing fish and wildlife regulations, and managing wildlife management areas.
Land Trusts: Vermont is fortunate to have non‐profit land trusts at the forefront of developing stewardship programs that incorporate landowner education into conservation easement monitoring. The largest of these is the Vermont Land Trust. All such organizations work to identify and protect important agricultural, forest and habitat lands in Vermont; and provide outreach to landowners on land protection, estate planning tools and easements.
Logger Education to Advance Professionalism: Supported by the Division of Green Mountain Division serves Vermont and represents many of the practicing foresters in the state. They sponsor continuing education credits and serve as Vermont's only forester certification effort
Marsh‐Billings‐Rockefeller National Historical Park: Created in 1992 after being donated by Laurence and Mary Rockefeller, the 650 acre park is an
excellent example on long‐term forest stewardship.
Natural Resource Conservation Districts: A statewide network of local units of government responsible for helping landowners with conservation practices and offer workshops, projects and demonstrations on a variety of natural resource topics. NRCD's often make trees and wildlife shrubs available for planting. The Bennington County NRCD sponsors the "Sustainable Forest Consortium" providing educational programs on forest topics.
Recreation Groups: Numerous recreational organizations, both statewide and regional, coordinate recreation opportunities and maintain miles of recreational trails throughout the state. Statewide organizations include: Catamount Trail Association, Green Mountain Club, Vermont All Terrain Vehicle Sportsman Association, Vermont Association of Snow Travelers, and Vermont Mountain Bike Association .
Silvio O. Conte National Fish & Wildlife Refuge: Established in 1991 to promote conservation of the abundance and diversity of native plants and animals, and their habitats on 7.2 million acres in the Connecticut River Watershed in Connecticut, Massachusetts, Vermont and New Hampshire. The US Fish and Wildlife Agency owns 26,000 acres in the Nulhegan Basin in northeastern VT.
Society of American Foresters: Educational, outreach and policy services to professional foresters in Vermont with limited outreach to landowners. Green Mountain Division serves Vermont and represents many of the practicing foresters in the state. They sponsor continuing education credits and serve as Vermont's only forester certification effort.
The Nature Conservancy: In addition to preserving natural communities and features through acquisition and conservation, TNC provides educational and outreach efforts on the natural world. Specific interests in Vermont include invasive plants.
Third Party Certifiers: There are a number of national third party certifiers of forest sustainability operating in Vermont. Sustainable Forestry Initiative (SFI) is an industry‐based program, while Forest Sustainability Council (SFC) is accepted and sponsored by a broad array of environmental organizations including Smartwood and Rain Forest Alliance. All have forest management certification and chain‐of‐custody programs.
Tree Farm: A program of the American Forest Foundation with chapters in every state, Tree Farm promotes forest management on private forest land. TF also has a third party certification program. In Vermont, the program is managed by Vermont Woodland Association.
University of Vermont, Cooperative Extension: Provides University of Vermont‐based information and can draw on the expertise of the Rubenstein
School of the Environment and Natural Resources. Extension's Natural Resources branch offers periodic workshops, short courses and produces a variety of educational publications on forest management, maple, and urban and community forestry.
US Department of Interior – Fish and Wildlife Service: Provides technical expertise in fish and wildlife conservation and management, enhancing interagency cooperation and partnerships between federal, state and local partners, and manages the Silvio O. Conti and Missisquoi National Wildlife  Refuges.
USDA – Farm Services Agency: Provides cost‐sharing to primarily agriculture producers for such programs as soil conservation and water quality improvements. The Conservation Reserves Enhancement Program (CREP) and Forests, UVM Extension and the forest products industry, the program provides education on forest ecology, forest management systems and training in safety and techniques for tree felling and logging.
USDA – Forest Service: Comprised of three separate and distinct units. Research and Development provides valuable resource assessments through Forest Inventory and Analysis (FIA), as well as academic and applied research in a variety of forestry fields. State and Private Forestry provides technical assistance to landowners and resource managers, primarily through partnering with state forestry agencies, to help sustain the nation's forests and communities. Finally, the National Forest System manages almost 200 million acres of forests and grasslands. Within Vermont, the over 400,000 acre Green Mountain National Forest is managed out of offices in Rutland, Manchester, Rochester and Middlebury.
USDA ‐ Natural Resource Conservation Service: Once thought of as only supporting farmers, NRCS offers a variety of financial incentives to woodland owners who are engaged in conservation activities. Some programs offer annual payments for conservation use, others offer one‐time, up‐front payments for conservation easements, and others fund the cost to implement activities prescribed in forest management plans. Environmental Quality Incentive Program (EQIP) and Wildlife Habitat Incentive Program (WHIP) are two costshare programs of value to Vermont forest landowners. The State Forester serves on the NRCS Technical Team which oversees cost‐share programs, while a State Conservationist also participants on the Vermont Forest Stewardship Committee, thus ensuring coordination between these two agencies.
Vermont Association of Planning and Development: Regional Planning Commissions provide land‐use planning technical assistance and guidance to
local municipalities.
Vermont Coverts: Member organization that offers training and peer support on wildlife management techniques on private lands.
Vermont Family Forests: A nonprofit organization that promotes and educates about ecological community‐based forestry practices.
Vermont Forest Products Association: Member association representing the full array of the forest products industry – loggers, truckers, foresters,sawmill, and secondary manufacturers. Association advocates for the forest products industries and sponsors member training and educational programs.
Vermont Natural Resource Council: A private nonprofit environmental education and advocacy organization, working to promote the wise use of Vermont's natural resources. They are engaged in lobbying, research and educational work on a variety of issues including forestry.
Vermont Nursery and Landscape Association - GreenWorks: Professional organization for the horticultural industry in Vermont. They support Vermont's green industry professionals through programming and certification, and promoting greater public awareness of green industry products and services in the state.
Vermont Wood Manufacturers Association: Represents nearly 120 primary and secondary processors and related businesses statewide. They work to support the industry in Vermont and promote its long‐term viability by expanding members' presence in the marketplace, ensuring a sustainable supply of raw materials, increasing workforce skill and acting as responsible employers and community members.
Vermont Woodlands Association: Member organization that provides advocacy, training and peer support for landowners and foresters, regular newsletters and updates on legislation. They administer Vermont's Tree Farm Program and Association of Consulting Foresters. Tree Farm offers third party certification for members.
Watershed Organizations: Vermont has over a dozen watershed associations, some of which participate in projects related to forest resources. Watersheds United Vermont is a statewide network of local groups dedicated to the health of their home watershed.
Woodland Owners Association: Member organization for Windham County landowners and managers offering educational workshops, a newsletter, peer contacts and referrals.