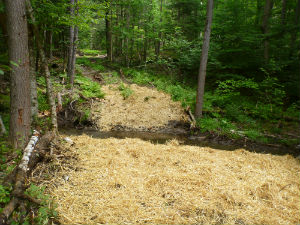 The 1986 Vermont Legislature passed amendments to Vermont's water quality statutes, Title 10 VSA Chapter 47: Water Pollution Control, which stated that "it is the policy of the state to seek over the long term to upgrade the quality of waters and to reduce existing risks to water quality." The revised state law requires permits for discharges of "any waste, substance or material into the waters of the state." However, individual permits are not required for any discharges that inadvertently result from logging operations, if responsible management practices have been followed to protect water quality. Acceptable Management Practices (AMPs) for Maintaining Water Quality on Logging Jobs in Vermont were developed and adopted as rules for Vermont's water quality statutes and became effective in 1987 and were subsequently revised effective August 11, 2018 AMPs are intended and designed to prevent sediment, petroleum products, and woody debris (logging slash) from entering Vermont's waters. 
AMP Assistance -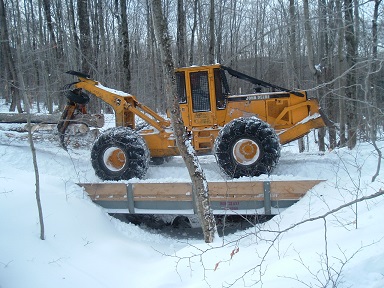 .
The Temporary Skidder Bridges are being built by Fontaine Millworks in East Montpelier.  The winners of the 12 bridges are listed Here:
News relating to the new AMPs:
Upon the role-out of the new AMPs in late 2016 and early 2017, the Department discovered some gaps in the new revised rule.  It was decided that going through the rulemaking process again was necessary in order to make the AMPs more clear, and to provide some missing recommendations for permanent bridges and culverts on intermittent streams.  The rulemaking process was completed between January and July of 2018.  Thanks to all those who provided review and input in the process.  The new proposed AMPs were approved by LCAR in July 2018, and the rules went into effect on August 11, 2018.  
If you have any questions regarding the new rule, please contact the Watershed Forester Dave Wilcox at 802-793-0265. 
Annual Statewide Summary Reports
2016 State-Wide Summary Report
2015 State-Wide Summary Report
2014 State-Wide Summary Report
2013 State-Wide Summary Report
2012 State-Wide Summary Report
2011 State-Wide Summary Report