Dorset; Bennington County 908 Acres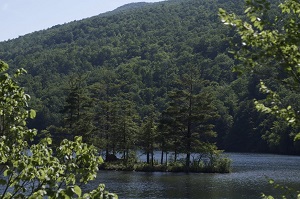 For more information about this property please visit the web page:
General Description:
Emerald Lake State Park is located in the narrow Route 7 valley between the Green Mountains to the east and the Taconic Mountains to the west. The 28-acre Emerald Lake, a focal point of the valley watershed, is situated near the headwaters of Otter Creek.
Unique Features:
Emerald Lake State Park hosts enriched northern hardwood forests and uncommon natural communities. Its forests support important wildlife habitat including deer wintering habitat. There is a 4-acre Natural Area of mature hemlocks. And the lake and associated wetlands are near the beginning of Vermont's longest river – Otter Creek.
Recreation Overview:
In addition to the camping and swimming that Emerald Lake has to offer it has many miles of hiking trails. These trails lead the hiker through working forests, near wetlands and along cliffs with spectacular views of the surrounding mountains as well as Emerald Lake and its associated wetlands.
Planning Overview:
The long-range management plan for Emerald Lake State Park was developed in 1996.