Sharon; Windsor County 705 Acres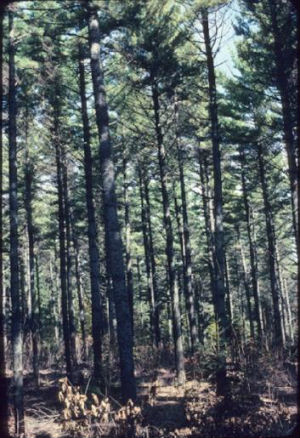 General Description:
Downer State Forest was established in 1910 as a gift from Charles Downer for the purposes of establishing a demonstration area of "experimental and scientific forestry". Extensive conifer plantations planted by Charles Downer are still managed today, and the road, camp, and fishing pond built by the Civilian Conservation Corps (CCC) are still in use today.
Unique Features:
The Downer State Forest Road is a well-maintained gravel road used for forest management, vehicles, and recreation. It is a popular walk or bike and offers many views of well-managed forests, both native and conifer plantation. Forest management has been intensive and ongoing with many large trees visible from the road.
Recreation Overview: 
The Downer State Forest Road is the focal point of recreational activity on the forest, providing opportunities for walkers, runners, bikers, horseback riders, and motorists. During the winter, the road becomes a snowmobile trail groomed by the Vermont Association of Snow Travelers (VAST) and part of a popular cross-country ski trail maintained by the Town Conservation Commission. An active timber sale program provides good hunting opportunities for game species such as deer and ruffed grouse.
Planning Overview:
The management plan for this parcel was designed to have a long life span. Forestry operations will likely continue under this plan for an additional 10 years before forest inventory is begun as a basis for the next Long Range Management Plan (LRMP).