Castleton, Poultney & Rupert; Bennington & Rutland Counties 158 Acres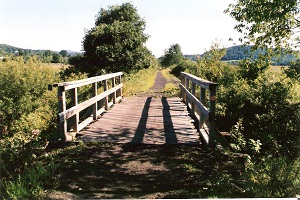 General Description:
The Delaware & Hudson Rail Trail is a 19.8 mile section of former railroad bed in western Rutland and Bennington counties, leased to the Department of Forests, Parks & Recreation by the Agency of Transportation for use as a recreational trail. The trail is in two sections – one between Castleton and Poultney, the other between West Pawlet and Rupert. The two Vermont sections are separated by a portion of trail in New York.
Unique Features:
The D&H Rail Trail travels through scenic countryside with views of the nearby hills, villages, farms, fields and forests. It also bisects the villages of Poultney and West Pawlet. There are opportunities along the route to picnic, fish, and stop at a store for refreshments.
Recreation Overview:
The D&H Rail Trail is a multiple use trail open to pedestrians, bicyclists and horseback riders in the summer and snowshoers, skiers and snowmobiles in the winter. The northern section has trailheads at both ends. Trail access is available at Castleton State College or along Main Street in Castleton and in Poultney village adjacent to the old train station on Depot Street. Trail access for the southern section is available in West Pawlet village on Egg Street and the south at the intersection of Route 153 and Hebron Road.