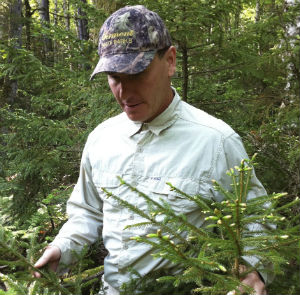 Michael Snyder has served as Commissioner of Vermont Forests, Parks, and Recreation since January 2011. Prior to that he served for 14 years as Chittenden County Forester, providing land stewardship assistance to private landowners and municipalities. He also taught, for 12 years, two courses in Forestry at the University of Vermont and wrote the "Woods Whys" column for Northern Woodlands Magazine for nearly two decades. Previously he worked in forest ecosystem science at the Hubbard Brook Experimental Forest and in land surveying and forest management in New Hampshire, New Mexico, and Sweden. He received both his Bachelor's and Master of Science degrees in forestry from the University of Vermont.
Commissioner Snyder also serves as State Forester and as Chair of the Vermont Outdoor Recreation Economic Collaborative, and is a Vermont licensed forester. He represents Vermont in national outdoor recreation initiatives through the National Governor's Association's Outdoor Recreation Learning Network and the Confluence of States. He is the author of Woods Whys: An Exploration of Forests and Forestry, published by the Department of Forests, Parks, and Recreation in partnership with Bondcliff Books. He lives with his family in Stowe and owns and manages a 91-acre forest in Essex County, Vermont.
Follow Commissioner Snyder on Twitter: @VTFPR_commish
To contact Commissioner Snyder, please call 802-828-1534.