COVID-19 Required Training for Forest Fire Wardens 
Forest Fire Wardens interact with the public as part of their duties and as a result, the Commissioner of the Department of Forests Parks and Recreation is requiring all Fire Wardens to take the state sanctioned VOSHA training for Protecting the Safety and Health of Workers.   
Please go to the Vermont Department of Labor VOSHA website, https://labor.vermont.gov/vermont-occupational-safety-and-health-administration-vosha, to complete the training. The training is available on-line and in printable version.  
 The training will take approximately 15 minutes.  Please hold on to your certificate as proof of completion of this training.  If you require assistance accessing the training or need a printed copy of the training material mailed to you, please call your District Fire Supervisor.  
The Vermont Department of Health provides regular updates to Vermonters and visitors to be smart and be safe.  Please access this information at  https://www.healthvermont.gov/response/coronavirus-covid-19  
---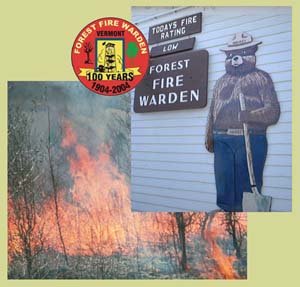 The Town Fire Warden System was established in 1904 to give the responsibility of forest fire prevention and suppression to each individual town under the authority of a town Forest Fire Warden. Forest Fire Wardens are appointed by the Commissioner of Forests, Parks and Recreation, with the approval of the town selectboard, and serve a 5-year term or the balance of any former warden's term, with an unlimited number of reappointments possible (subject to approval by the Commissioner or designee, see Title 10 VSA Chapter 83 §2641). 
Numerous wardens are directly in charge of fire suppression in their town, however, it is an accepted practice that most towns designate their town fire department to engage in fire suppression. When a fire department receives a wildland fire call, regardless of the caller, the fire department is considered officially summoned by the town forest fire warden. It is also recognized that town fire wardens often delegate some of their authority to fire department chiefs so that fire suppression efforts are more responsive. Ultimately, town forest fire wardens have complete authority and jurisdiction over wildland fire suppression activities in their towns.
Resources for Vermont Town Forest Fire Wardens: